Our Vision:

A center of Technology Transfer, Livelihood Development and Entrepreneurial Empowerment that will help alleviate the living standards of people in the Province of Negros Occidental.


Our Mission:

Facilitate techno-transfer that will enhance economic opportunities and provide transformational activities to target sectors.


Our Goal:

Sustainable Livelihood Projects For the Province Of Negros Occidental Our Philosphy:

Our first responsibility is our Clients. Without them we would have no reason for being.

We believe in the culture of developing partnerships and networking as a way of reaching out to our target sectors.


Service Areas: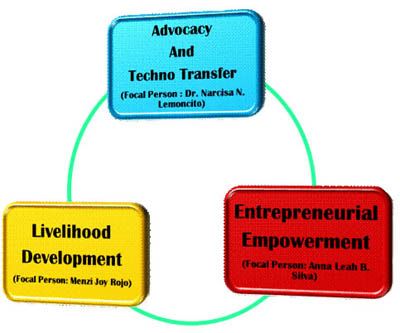 Target Clients:
Home Furnishings
Gifts, Toys and Housewares (GTH)
Specialty Foods / Pasalubong
Agribased


Programs and Services:

1. Operations of the Techno-Library:
A One-Stop-Shop for business information and instructional data needs.
Has a wide range collection of technology & livelihood information through print & media publications, and the internet web of TLRC.


Services Offered:
Sale of TLRC Information Materials
Film-Showing (In-House Viewing)
Research & Counseling
Photo-Copying of Other Business & Livelihood Reference Materials.
Access to TLRC E-Library

Open to clients from 8:00AM to 4:30PM
Mondays to Fridays except holidays

2. Techno-Film Presentation:
A support service aimed in disseminating information that promotes entrepreneurship and development of livelihood projects in the countryside. This service is available upon request of interested LGUs or organized groups.

3. Information & Advocacy Campaign:
Information Caravan: viewing services of TLRC livelihood courses on VHS and CD format. Held upon request of interested groups.

4. Techno-Demo Trainings:

ο Aimed to provide assisted clients with a venue for learning business technologies and developing skills that would create opportunities for enterprise development employment in the local community


Livelihood Development:

TLDC Livelihood Programs were designed to develop micro-enterprises and generate employment in the community.

Agri-based:
Farm Input Supplies & Marketing
Poultry Layer Production & Marketing
Multi-Purpose Trading
Grain & Feed Processing Support
Goat Raising
Feed for Pigs


Area of Coverage:
Pontevedra
Binalbagan
Moises Padilla
Kabankalan City
Cauayan
Sipalay City
Hinoba-an
Hinigaran
San Carlos City
Toboso
Victorias City
Silay City
Talisay City
D. S. Benedicto
La Castellana

Proponents:

Mainly organized groups & cooperatives engaged in:

Farming, Fishing, Livestock & Poultry Production
Farm Input Supplies & Marketing
Poultry Layer Production & Marketing
Multi-Purpose Trading
Grain & Feed Processing Support
Goat Raising
Feed for Pigs


Speciality Food:

Activities & Interventions

A. Food Upgrading Skills Training
B. Shelf-Life Testing
C. Food Packaging and Labelling in cooperation with DOST-Region VI

Office (Aims to raise the level of quality of the local food products, by providing functional label designs and appropriate packaging materials for the LGU assisted food sector clients ο San Carlos City
Calatrava
Escalante City
Sagay City
Cadiz City
Silay City
Binalbagan
Ilog
Hinoba-an
Pulupandan
Valladolid
San Enrique
La Carlota City
Pontevedra
Hinigaran
Kabankalan City
Sipalay City

Entrepreneurial Management:

Goal:

Establishment and Development of Micro Entrepreneurs / Enterprises in the Rural Areas:

Major Programs:
Entrepreneurial Development Training
Business Counselling and Consultancy
Product Development
A. Skills and Technology Upgrading

B. Product Design Consultancy and Clinic

4. Marketing and Promotion

A. Organize and participate to local trade fairs

B. Linkaging

C. Marketing Support - A trust fund was set-up for the purpose of assisting clients /
entrepreneurs in the GTH and Home Furnishings sector in production provided it has
the minimum requirements as follows:
Operates within the component cities and municipalities in Negros Occidental.
Has undergone product development.
Must have an official receipt.